The most important touchpoint of all in a busy world is a seamless mobile experience. Mobile traffic now accounts for more than 60% of all traffic, with mobile sales quickly catching up. Furthermore, a shopper (80%) checks out the store's mobile site while in the store. Unsurprisingly, e-commerce is a source of income for the world's largest online retailers.
However, many young businesses want to succeed in e-commerce as well. How to create an e-commerce Mobile App That is the question traders, marketers, store owners, and online retailers keep asking themselves as they navigate the challenging market landscape. This article will guide you on building a mobile e-commerce app step-by-step.
Before you know how to build an e-commerce app, you must first understand it.
A mobile e-commerce app is a mobile application that allows people to buy or sell goods with a few clicks on their phones. It can refer to the sale of goods and various services. As a result, we can see that new opportunities emerge for many businesses.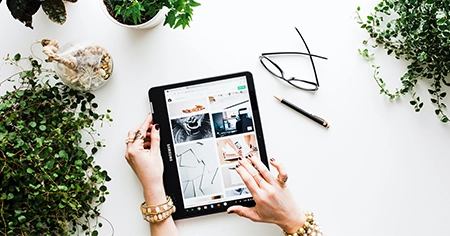 Trends and Facts for Building an e-commerce App in 2022
How do you build a popular and in-demand e-commerce mobile app? To begin, we recommend that you research the market's trends. Let us look at the most important ones in 2022.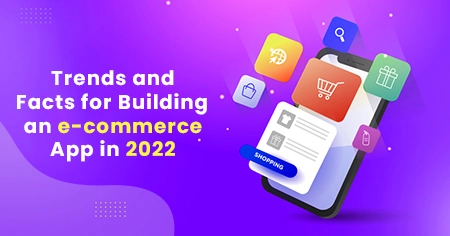 54% of smartphone users buy from branded apps
Approximately 82 percent of internet users use mobile devices to shop online in the United States,
In 2022, 42 percent of smartphone users intend to shop more on mobile apps.
Mobile shoppers spend twice as much as other shoppers.
According to eMarketer's The Future of Retail report, e-commerce will grow to $845 billion by 2022.
According to Statista, mobile e-commerce sales will exceed $432 billion in 2022, up from $148 billion in 2018.
Let us quickly discuss the key steps to building a mobile app to help you sell more and earn more.
Step 1: Identify your e-commerce app goals:
Getting to know your app objectives is vital before developing your e-commerce app. Understanding what you like and from your app can help you evaluate its chances of success. Your KPIs and goals will directly affect the features you will need in your e-commerce app, the app development process, and more. To determine your app goals, you must know where you are. How many customers visit your store each month? How much revenue is generated by mobile payments? What is your mobile conversion rate?
If you continue to sell traditionally, you may lose many customers who prefer to shop online. This is why you require an e-commerce app to assist you in optimizing and simplifying your checkout process and increasing (visitors to customers) conversions at each stage of the funnel.
After defining your app's vision and goals, you will need to define your success metrics. What are your KPIs, and how will data for them be collected? If you do not fully understand, the answers to the following questions right now, your mobile e-commerce app will struggle to succeed.
Step 2: Understand your target audiences:
Once you have decided what you like about your e-commerce app and hired an e-commerce development company, the following step is to decide who will finally use your mobile app. In other words, you must understand your target audiences. Remember that your targeted audiences may directly affect your app's features, functionalities, and user experience. B2-B customers may expect a different experience than B2C customers. You can streamline your app development process while also working on your app marketing if you know your target audiences.
To decide this, you may ask yourself:

What is the average age of my target audience?
What are their possible interests?
How will they find you?
Which products are already used and purchased?
What would they like to buy?
The following questions may assist you in understanding how your application should appear, feel, and behave. It will eventually influence the mobile e-commerce app you develop.
Step 3: Choose the right technology stack:
After determining your e-commerce app's goals and target audiences, the next important step is to select the appropriate technology from the stack. You may want to hire a mobile app developer or a team of Shopify experts due to the kind of app you want to create. Native Apps and PWAs are two technological options for e-commerce merchants (Progressive Web Apps). To develop native apps, you will need the help of a reputable iOS or Android app development company.
However, suppose you want to create a PWA. In that case, you may need the assistance and support of a website development company with extensive experience in creating engaging and intriguing progressive web apps that help you acquire and retain more customers. PWAs are next-generation websites that provide an experience similar to a native app regarding interactivity, performance, and speed. These apps, however, do not require downloading and are not available in app stores. They are an excellent choice for businesses with high mobile traffic to their brand website and those on a tight budget.
Because native apps are stored on the device (unlike PWAs), they use device resources such as the operating system, camera, contacts, GPS, etc. Native apps provide the most optimized, best experience possible. They are intuitive and fast, feature native gestures (such as taps and swipes), and have quick access to contacts, databases, photo galleries, cameras, etc. While many people believe that downloading native apps takes up memory on their device, it is also a great opportunity because the app is only a tap or swipe away. Weekly, millions of people, use the App Store and Play Store. You can attract more visitors and customers by optimizing your app for these stores (via ASO).
Step 4: Mention your e-commerce app development requirements:
You should prepare a detailed list of app requirements and must-have app features and functionalities before entrusting your app development project to your preferred iOS or Android app Development Company. Discuss your app's needs with the team working on it. Some key features and functionalities you should request from your app developers are:
Text messages
Wish list
Simple and safe checkout
Outstanding user interface (UI)
A seamless user experience (UX)
Custom branding and design elements
Various payment option
A rating and review system
Backend synchronization
Social media integration
Native experience with taps, touches, swipes, and optimal screen use
Once you have compiled a list of the features mentioned above and any additional functionalities, Determine the features you want to see in your app and your budget, and the process for obtaining them.
Step 5: Pick your process and the budget:
After you have finally agreed on the functionalities of your e-commerce app, you'll need to determine your budget. The key question is how much money, time, and resources you will need to invest in your app. In addition, how much flexibility do you expect from your app when sending notifications and push messages, changing the design, adding new features, and so on?
Depending on your budget and the level of flexibility you require from your app; you have two main options:
Creating a customized app
Using a SaaS, off-the-shelf solution
When you request a customized e-commerce application, you must hire a skilled and experienced development team to build your e-commerce app from the ground up. This is what well-known brands like Amazon do. The following are some of the reasons why you should use customized apps:
Custom-made apps allow you to specify your exact requirements.
Complex integrations are required for these apps.
You can get apps that meet your specific needs and expectations with a moderate to lavish budget. It is vital to consider that custom-tailored apps are costly to develop and maintain. These apps can also be difficult to create if you hire the wrong team of developers or an incompetent development agency.
One advantage of customized apps is that you can design an app exactly to your specifications. Aside from that, there are no restrictions on your app's creativity, features, functionalities, or choice of operating systems.
Step 6: App Marketing
While the focus of our discussion has so far been on e-commerce app development, it is also important to discuss the marketing aspect of the application. Having a great application with an amazing user interface and excellent functionality is insufficient. After all, the ultimate goal of releasing an app is to have as many download installs, positive product reviews, and purchases as possible. If an app's marketing fails, all of these suffer.
Conclusion
You now understand how to create a successful e-commerce application for your company. To develop a high-quality e-commerce mobile app, you must first research the market, trends, and potential challenges.