Our web solutions keep bringing your customers back to you.
They say look'n feel of the web solution (UI) is as important as the optimal mix of functionality and navigation it offers (UX). To us, that's just the tip of the iceberg.
What makes a good solution great?
It's a lot of things going perfectly that make the visitor experience exceptional. Clients expect web application development services to include knowledge on what to write and how to present it, how to lay the design out for your industry so you don't stick out the wrong way, how to optimize it for various devices, and what technologies. As a web application development company, we have curated and instilled that knowledge and the set of best practices into our processes to create bespoke visitor journeys that are guaranteed to open new revenue streams for you.
Our experts keep themselves up to date with the ever-evolving Google ranking protocols to bring you ahead of your competition through our solutions.
See how we work
Our tech stack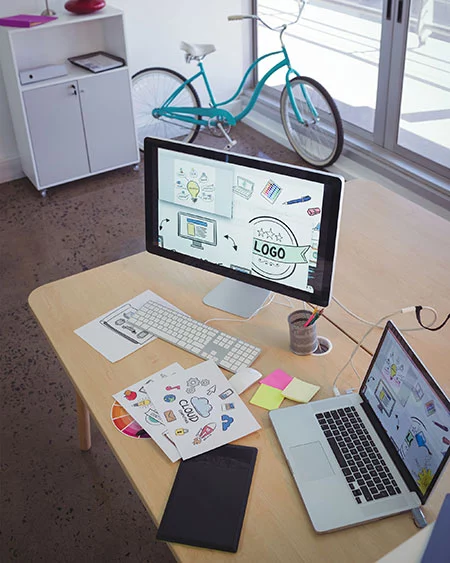 1
Discovery
We put a lot of stock in our discovery process. It helps us ascertain what we call the 'ideal scenario' for the client. We take note of any custom web development services the client specifically requests, and make an effort to picture the project from a design and technological standpoint in this phase. Picturing it before painting it on canvas helps us work out the kinks, and helps our design team do a competitive analysis. We are also able to figure out the costs and timelines involved for the process and communicate it with you.
Timeline
Deliverables
Design Document, Feature set for the website
Resources Involved
Web Project Lead, UI and UX team members, Estimated timeline and Budgets
2
Development
We never deviate from the Scope of Work. All that hard work in the week before was because we want to make sure every member of our team is working in-sync with your vision. This helps us maintain a high quality, eliminate activities that consume time such as re-work of the feature-set and make sure that we stay on the budget agreed with you.
Timeline
Deliverables
Resources Involved
Web Project Lead, Front-end and back-end developers, DevOps team
Our Experience
We build palatable user experiences that enhance your visitor stay, visitor engagement and visitor action. We have learned to code end-user journeys that convert your visitors into loyal customers. Our web designs are optimized for user experience, and offer an intuitive interface & navigation that glides your visitors to revenue generating actions. We know how to present your service offerings and present the information in the format the visitor expects, hence enabling the immediate buying decision.
Hospitality Web Solution
What started as a simple web facelift project with the client quickly grew into a full-option website that is now geared towards 360 Degrees Customer Capture strategy. This fully responsive web solution is localised and deployed on AWS to reduce load time, intuitively and cleanly designed, and comes with a powerful backend module that helps our client keep track of their business.
Tech stack
We spend a lot of time trying to figure out what you want, with you dictating the pace for over 1 week in most cases. When it comes to development, since we have a lot of experience, we choose the technology stack that will work the best for your budget, your timelines and the functionality you envision your web solution to have. Whether it's a custom-built solution that uses React or Node, or a customized WordPress solution, we've got you!
Trusted by





Top app development company
---
Find the latest industry trends, to keep you at the top of your tech game. All curated by a top app development agency, read more on our blog.
Baby-step it… All the way to Development!
Share your idea with us and let us roll with it on our own for a while. Do it!
Contact Us
Learn more about our ethos.
It's how we do things that sets us apart. No rocket-science, it's just processes.
About Us