We are here to help, but first, we would like to state unequivocally "every business has different needs and goals." We are meticulous about who we collaborate with; you should be. We can tell if a company is a good fit for us, and we believe every web design firm should admit when they are not. That said, the purpose of this article is to assist you in determining whether or not an agency is a good fit for you." This article listed some tips to help you choose a web design agency.
Here are 10 steps For Choosing the Right Web Design Agency
1. Make a List of Your Website Goals & Website Needs
Before you start looking for web design agencies, you should know what you want your website to do and what features it MUST have to help you achieve your objectives. After all, your website is a tool for business and marketing, not just a pretty face.
Here are some examples of things your website could do:
Create leads for your company;
Sync your CRM software, such as HubSpot, Salesforce, or any other major CRM software;
Connect to your marketing automation tools, such as Pardot, HubSpot, or Marketo,
Connect with your email marketing platforms of choice, such as Constant Contact, Emma, or MailChimp;
Collect payments or donations, including donations/recurring payments;
Allow users to fill out forms on your website and submit them to your team;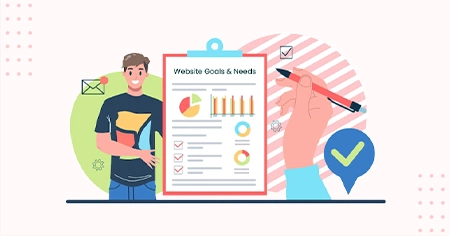 Examples of features your website may require to assist you in achieving the above:
User-friendly navigation, search-engine-optimized content and conversion-optimized pages;
Ecommerce functionality;
Secure online forms (and HIPPA compliance if you work in the healthcare industry);
An SSL certificate and the HTTP protocol;
Your website is an outgrowth of your business and should help you achieve your objectives – whatever they may be. A list of your goals, needs, and nice-to-haves will help you and the web design companies you interview to ensure your site is customized. Budget and timeline are also essential factors to consider before contacting any agency.
While you may not know how much it will cost to design your site, having a range (between $10K and $15K) will help you get realistic web design quotes within your price range. A timeline is also helpful because if you need your website up and running in two weeks, you will need an agency with immediate availability rather than waiting three weeks.
2. Examine each web design agency website.
This is one of the essential steps in deciding on a web design firm. Here are some things to look for on a web designer's website. If a web design agency's website appears old, outdated, or otherwise unprofessional, that agency is probably not suitable for your business.
The reason is straightforward. A good website design agency should be able to create an excellent website for themselves. That does not mean their site has to be precisely what you want in your own — every company has different needs, and their websites have other functionalities. However, you should be able to find all the information you require within a few clicks of the agency's homepage.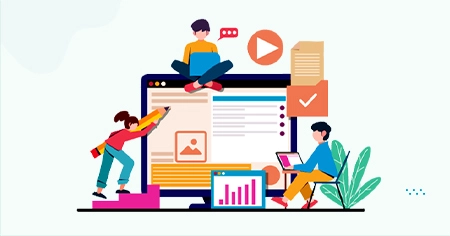 Finding information quickly is critical when developing a good website. Users will abandon websites that require them to click more than a few times to see what they are looking for. That is the last thing you want to do when creating a website. These visuals provide a more engaging user experience, as you may have noticed while browsing agency websites. Even with all of these elements, a website for an agency should not appear cluttered.
The color scheme should make sense and not overpower your senses. Similarly, each element should have its own "space" with enough breathing room. Like a lack of navigation, cluttered websites will turn your users away and cost your business.
Finally, each agency should have testimonials from previous clients, complete with the client's name and URL. This information will allow you to check their clients' sites' current state, providing additional insight into their capabilities. Now that you have examined each agency's website, it is time to conduct additional research to assist you in selecting a web design agency.
3. They Have an Experienced Marketing Team
People do not always want their website to help them grow their business. Some people, believe it or not, think they want their site to "exist." This may not mean much to you if you are among that small group. For everyone else, if you wish your website to help your business grow, hire a web design firm with marketing experience.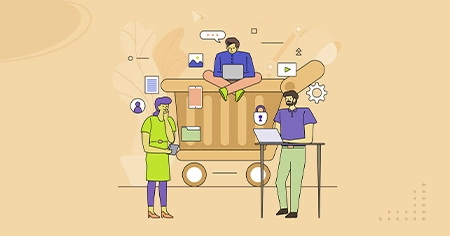 A web design agency without a marketing team is comparable to a Ferrari without an engine. Yes, it looks great, but it is not going anywhere or doing anything. The internet has evolved, and active digital marketing is required to make your website perform. When a web company employs designers, developers, and marketers, you can be confident that the result will be more than just a pretty paperweight—it will produce results.
4. They Know How to Use A CMS
If the web design company discourages using a Content Management System, this signifies they are stuck in the Stone Age. Your website requires a CMS. You will be disadvantaged in the marketplace if you do not have it. Any reputable web design firm is familiar with the best content management systems, such as WordPress, Drupal, and Magento. If your web designer recommends a static HTML website, you should find a time machine and return to this decade. If they recommend Wix, Squarespace, or Weebly, politely thank them for their time and move on to a web design company that does not use "do-it-yourself" software.
5. They Have Case Studies (Or At least A Portfolio)
What is the most effective way to determine what to expect from a web design firm or marketing agency? Examine real-world projects they have worked on and interact with the finished product. Do not put your faith in screenshots of homepages or mockups of design work for unknown brands (like the coffee shop freelancer showing a Nike website). You want to see real, public websites that they have created. It would be even better if they could share information about the goals and strategies in play. Take the time to go over their work and assess their progress.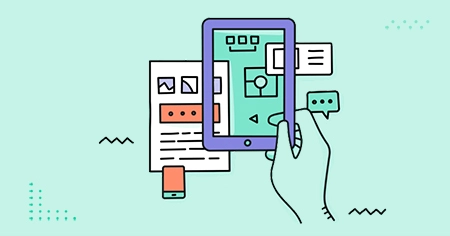 They will not be a good fit if you do not see anything you like. Also, remember that as you progress to more exclusive companies, their client list will become more restrictive and even protected. Do not be concerned; request real-life examples. Finally, it is critical to understand the type of company you are speaking with. When a web design company is hired to build a website, they typically create it and then move on to the next client, so they usually show a portfolio. Marketing agencies are employed to increase sales or achieve specific goals (such as ROI, increased traffic, or leads), with a website serving as merely a "tool" for them.
6. They Have Both, Local Experience & National Experience
You need a web design firm that understands the strategies behind both a small local business and a national brand. The more strategies and audiences your designer is familiar with, the more likely your site will assist you in meeting your business objectives. It would help if you had a web design firm that can think big and small and understand how to bring it all together to enable you to grow wisely.
7. They have a proven track record and are not going away.
The online world is evolving at a breakneck pace. You need a web design company that keeps up with these changes so you can focus on running your business rather than worrying about them. Putting your trust in an unreliable web design firm that will not be around in a year is risky. Hundreds of new design firms open their doors yearly, and just as many close. The longevity of a web design firm is an accurate indicator of its ability. You want a company that has been around long enough to be sustainable and intends to stay in business for the long haul, preferably one that wants to grow.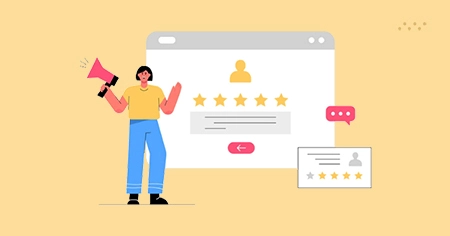 The more talent and experience a design firm has, the more they have had to evolve and adapt to all the new trends the internet goes through. If they are not adapting and staying ahead of cutting-edge technology, such as using HTML sites or discouraging the use of a CMS, it could be an early warning sign that they are in trouble.
8. You Can Trust Them to Get Results
Once goals are established, exceptional web design firms do not need to be told how to execute a strategy. They will work hard to achieve the agreed-upon goals in the best way possible, ensuring that you get a return on investment and their reputation grows. If you feel the need to micromanage your web design firm and tell them how to do their job, you may need to meet with management to review expectations. If this does not improve, they might not be a good fit for you or your company.
9. Check out their blog posts
These short articles can provide more in-depth information about the company and other projects they are working on. The content they create for their blog can also demonstrate how knowledgeable an agency is on specific trends and topics.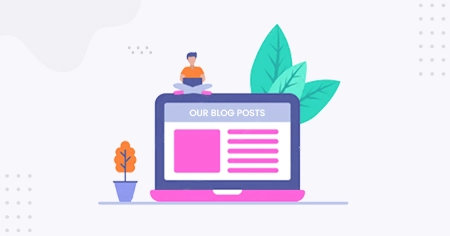 It can also assist you in evaluating their best practices further. Examine how they format writing and informative content and how easy it is to read and engage with their blog posts as a consumer.
10. Read Testimonials & Online Reviews
In addition to their read testimonials, portfolio, and online reviews about the web design firms you are considering for your new website. The reviews are an excellent way to see how satisfied clients are with their websites, the level of customer service they received while working together, and if they mention specific team members by name. Check out reviews on Google, Facebook, and Yelp. Check to see if they feature testimonials on their website. If you only find reviews on their website, do a little more research before requesting a meeting.
Conclusion
If you are just getting started, our best advice is to start asking around. Ask other business owners about their web design experiences and the companies they have used. If you want to work with a local company, search online for "Web Design _______" (fill in the name of your city) and look at the top companies.
If you know what you're getting and hear, set up a meeting with someone from the company to discuss your expanding business. A good web design firm does not fear or disparage competitors. The best web designers are self-assured in their abilities and know which companies are trustworthy. Your job becomes much easier once you find the right web design company you can trust to achieve your goals and focus on what you do best.
Soft circles is an experienced web design agency.
We want to introduce you to our web design firm now that you know how to choose one. We at Soft Circles understand what it takes to be a good web design company because we have one of the world's top web design teams.
We have won awards for our hard work with clients, which is paid off in the form of increased traffic, customers, and revenue. We make sure that all of our clients receive a web design solution that is both functional and within their budget. Do you want a custom website that gets results for your business?